1-Day Survival Kits
Being equipped with the right survival kits and survival products and knowledge will greatly increase the survival for you and your family in the event of a disaster.
Our Survival kits designed for individual use during a disaster including a number of critical emergency items like food, water, flashlight and a first aid kit. The Ready Tube emergency kit designed for an individual at work or traveling during a disaster including critical emergency items like food, water and a N95 safety mask. The Shelter In Place emergency Kit including Barrier Sheeting that is 60 times more effective than generic plastic against known gases of war. Preparefness is a key for a survival. Please have emergency kit ready in your car, home, office or school. Be prepared!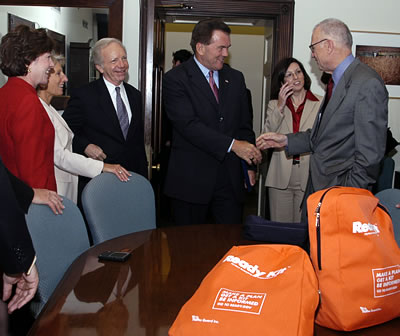 Secretary of the Department of Homeland Security Tom Ridge along with Senator Joe Lieberman, Senator Susan Collins, and Rep. Jane Harman during the launch of National Preparedness Month September, 2003
Quantity Discount will be applied automatically
Disasters come in all sizes. As you're getting news of the storm, prepare with the right disaster kit. For minor disasters, a one-day kit is sufficient, and Survival Supply has the right combination of resources for one or two people. In the event of a small disaster, food and water are still crucial, as power may have been cut off. For getting through the emergency, our disaster kits allow you to grab and go with the right supplies quickly.
Packaged in a backpack, bag, or fanny pack, our one-day kits are ideal for travelers and commuters. Each contains food rations, a flashlight, first aid, and other standard survival supplies. Before going out on the road, back yourself up for any emergencies with a one-day survival kit.